IoT in healthcare offers advantages that are beyond comprehension. The use of IoT in healthcare can enhance how processes operate in the medical industry. IoT application cases in healthcare are the future, from enhanced equipment control to virtual medical aid. With the rapid identification of diseases and the discovery of effective treatment, it can save patients' lives. An IoT development company can help you in the best possible ways by learning more about the same.
IoT definition and operation are hardly ever in doubt because of how far-fetched some applications of the technology have grown. If you are looking forward to learning more about the same, an IoT application development company will be able to help you.
The internet of things (IoT) is revolutionizing the healthcare ecosystem. It is providing doctors with new tools to diagnose and treat patients, connecting hospital systems to enhance healthcare quality, and providing a rich data source that can be mined for ways to improve patient outcomes.
Many people don't know where to begin when it comes to implementing IoT in their organization or industry, but it's easier than you think. If you are wondering where IoT fits in the healthcare industry, read on.
Where Does IoT Fit in Healthcare?
Most of the time, people are ill but are completely unaware of it. It is necessary to see the doctor in order to detect any symptoms. Regular monitoring of vital signs such as blood pressure, diabetes, and heart rate allows patients to be alerted to potential health risks. 
Patients frequently don't receive medical care promptly, which can seriously impair their health. Numerous factors contribute to the delay, including lack of hospital rooms, heavy traffic, lack of additional doctors, delayed diagnosis of illnesses, etc. This is where the major aspect of IoT development services falls into the picture.
A network of interconnected devices known as the Internet of Medical Things (IoMT) gathers data in real-time. One of the most important uses of IoT in healthcare is the Internet of Medical Things, which is having a beneficial effect on the sector and can address medical problems. IoT services can help you with precise and accurate information on the same.
IoT Strategies That Can Be Deployed in the Healthcare Industry
Connect Medical Devices and Sensors to Diagnostic Data Services–
If a patient is admitted to your hospital for a procedure, for example, the doctor will want to know about the patient's history and current status. He or she will also want historical data on how well the patient is recovering from the procedure so far. It requires connecting sensors that monitor vital signs like blood pressure and oxygen levels to a central database within your organization's IT infrastructure. Remote access to this central data source provides the doctor with instant access to valuable medical data that can be used in the future to improve patient outcomes. It gives the doctor a richer view of the patient's condition, which helps guide future treatment.
Connect Sensors and Actuators in Medical Devices to System Outcomes–
Another way that IoT connects with healthcare is through connected medical devices. A connected medical device could track blood pressure, chart vital signs of a patient's recovery, and even deliver medication remotely. It opens up the possibility of integrating on-site healthcare services, such as a patient's recovery and wellness program, with the remote monitoring of a patient's condition at the hospital. It opens up the possibility of adding more value to the proprietary data within your organization. IoT development solutions can help you in the best possible ways with this aspect.
Enhance Data Quality and Security–
As mentioned earlier, data security is one of the advantages of using IoT in healthcare. But there are additional advantages as well. Sensors can be deployed in devices to provide clinical quality assurance, which is often lacking in manual processes within an organization. These devices can also allow for an automated medical device release process so that approved medical devices can be quickly sent to patients' homes when their prescriptions have been filled or dispensed.
What Are the Benefits of IoT in Healthcare?
IoT has many benefits for healthcare professionals: It enables better coordination of care between medical personnel, improves medical device usage and patient compliance rates through notifications and remote monitoring capabilities, as well as encourages personalized medicine through more proactive treatment plans for patients.
Benefits of IoT in Healthcare
Simultaneous reporting and monitoring: Patients can be observed in their healthcare facilities without having to use scarce resources. It can also help in identifying new patterns and trends, which could be of great value to healthcare professionals. An IoT application development company can help you with the aspect of reporting and monitoring.
Patient safety: In the US alone, hospital-related mistakes claim about 250,000 lives each year. With the help of a connected system, hospitals can gather data from various sensors and make real-time decisions regarding patient safety.
Improved efficiency: IoT devices connect health devices and sensors with wi-fi networks and connect them with cloud-based software applications that allow remote monitoring and control of these devices. If the healthcare industry is looking for an aspect of improved efficiency, then IoT development services can help the healthcare industry in the best ways.
Improved patient compliance: One of the most significant challenges in healthcare is improving the patient compliance rate. Encouraging patients to adhere to their prescribed treatments and monitoring their adherence throughout treatment can be made easier with the use of sensors and connected devices, and nothing other than IoT services will be the right service here.

Tele-rehabilitation: With telerehabilitation, patients can benefit from assisted physical therapy through a real-time video feed and data collection. While being unable to physically attend a clinic, they will be able to follow their therapy in real-time, which helps them improve faster.
The benefits of IoT in healthcare are endless, and this list barely scratches the surface of how connected health technologies can positively impact healthcare.
The Future Scope of IoT in Healthcare
There are many opportunities for IoT, not just in healthcare. Numerous IoT healthcare startups are developing novel applications for this technology to benefit our medical community.
Future healthcare could be more affordable and effective because of the IoT. It may facilitate the development of equipment that is more personalized and patient-focused. Additionally, the IoT will give patients better access to data and individualized care, which will reduce the number of hospital visits.
Healthcare in the Future with IoT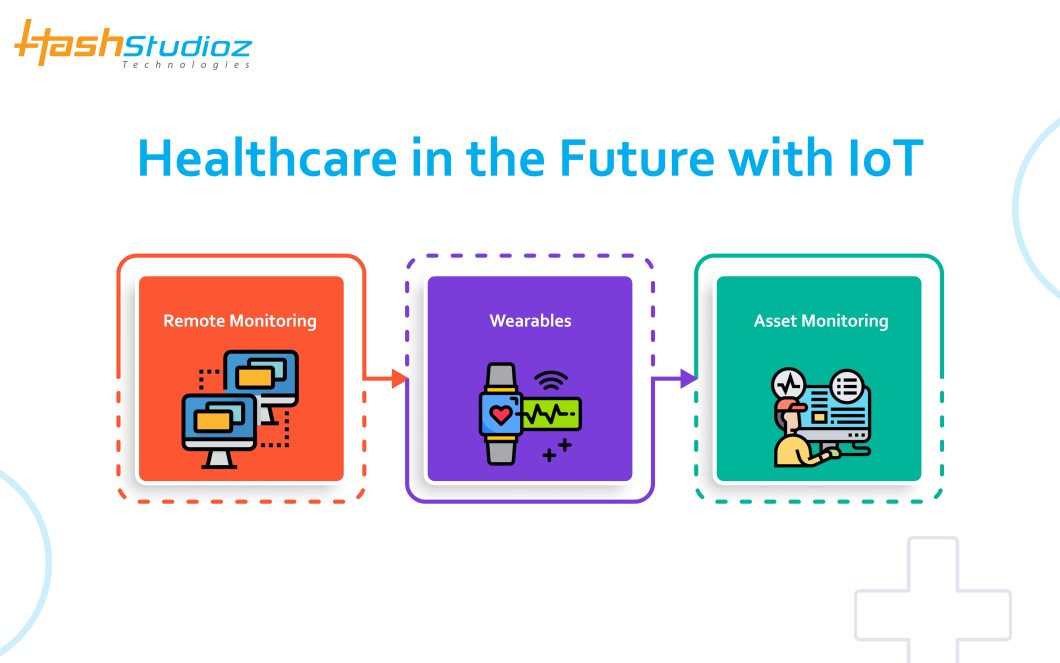 Remote Monitoring
Customized hardware and software will read patient medical card data in real time, assisting clinicians in getting a better understanding of the patient's health.
Wearables
Numerous devices on the market can track patients' everyday activities in real time and retain the information. These tools provide patients with information regarding their physical activity. Since the doctor would receive the patient's information right away, they can also aid in preventing emergencies. 
Asset Monitoring
IoT can assist in giving various hospitals critical equipment controllers and functions. Any flaw in the equipment can be fatal because it is essential to the treatment process. The employees will be able to quickly monitor their work once these gadgets are connected. Device flaws can also be identified in real-time, lowering the possibility of inadvertent treatment.
Wrapping up,
Users can benefit from a wide range of applications provided by the Internet of Things. They can be used to track important information and updates for the concerned person by patients, doctors, medical experts, relatives, and insurance companies (s). It increases healthcare workers' attention to the patients in order to avoid neglect.
With the help of technology, healthcare is developing quickly, and IoT has significant value to provide. The ease of closely monitoring patients and developing preventive actions is made possible by the Internet of Things in healthcare.
However, if you're captivated by IoT and want to integrate it into your business then you are on the right page. We at Hashstudioz Technologies, the most prominent IoT development company in the USA as well as in India are open to serving all industries, including healthcare, retail, banking, and so on. 
FAQs on IoT in healthcare
Q) How will the Internet of Things (IoT) impact the healthcare industry?
Modern healthcare mobility solutions made possible by IoT improve patient care in several ways, including:
Real-time Surveillance
Keeping an eye on blood pressure
Controlling Diabetes
Smartwatches to cure Major Depressive Disorder (MDD)
Q) Why is IoT important in healthcare?
There are many advantages to IoT technology utilization in the healthcare industry. For instance, better control over medical adherence, remote conditioning, treatment monitoring, and telemedicine that is both more effective and more accessible. 
The powers of preventive medicine are improved by IoT.
• More alertness and mobility of healthcare staff
• Quicker handling of patient data
• Improved drug and medication adherence management
• Lessening of the human factor's potential for error and miscalculation
Q) What is smart technology in healthcare?
Smart healthcare, or technology that corresponds to modern technological methodologies, enhances patient workflow. Utilizing wearable devices with Internet of Things (IoT) technology, the system may access a variety of data with automated responses and speed up communication between the parties involved (which include people or institutions). The use of this technology, which has improved accuracy and speed, has benefited the healthcare industry.
Q) What are the benefits of using IoT?
By now, most of us must be aware of the fact that IoT is the most sorted technology in this 21st century! Not to overlook the fact that almost every field is looking for the best and latest IoT solutions to augment its growth opportunities.
There are several benefits of the same, for example
It enhances the scope of communication.
It helps in accumulating huge amounts of data.
It generates automated responses.
It helps in monitoring activities and habits.
It saves precious time and money.
It improves the quality of life in the best possible ways.
If you are intrigued by the way IoT works in the healthcare industry, then IoT development solutions from HashStudioz will be able to help in several ways.