Modern business is an incredibly complex entity, no doubt about it. Businesses must be able to manage the databases associated with potentially millions of customers and business information. This is to understand their markets and clientele. Advanced business process automation has enabled businesses to unlock the power of so much intricate information and so many systems.
This blog is the ultimate and detailed guide to business automation.
What is Salesforce automation?
Salesforce automates the processes of receiving orders, managing inventories, and maintaining relationships with customers. Businesses can improve efficiency and productivity by automating these tasks, which allows employees to focus on more strategic activities.
CRM is a component of Salesforce automation software that helps businesses manage customer data, track sales opportunities, and automate marketing and customer service processes. Businesses can also automate sales with order processing and inventory management features.
What should I consider before implementing Salesforce automation in my business?
The following considerations should be made if you're thinking about salesforce automation:
The first step is to select a software solution that fits your business requirements. To find the right fit for your business, you should compare the features and prices of several different Salesforce automation software solutions available.
Secondly, Salesforce automation requires a significant amount of time and resources for implementation and maintenance. It is important to account for the costs involved with training employees and keeping the new system up-to-date and supported.
Lastly, Salesforce automation can significantly impact your business, so evaluate the benefits and risks carefully. Salesforce automation can be beneficial for some businesses, but it is not suitable for everyone. Before implementing Salesforce automation, carefully weigh the pros and cons.
What are the benefits of Salesforce automation?
Salesforce automation offers businesses several benefits. Most importantly, it can increase sales productivity by automating crucial sales processes. Salespeople can then focus on more important tasks, such as prospecting and building relationships. By analyzing data, Salesforce automation can also improve data quality and accuracy. The overall performance of businesses can be improved through Salesforce automation.
Numerous advantages of Salesforce automation include:
Improved client satisfaction: Salesforce automation can help businesses increase customer satisfaction by offering CRM and customer service tools.
Rise in sales: Businesses can increase sales by automating lead generation, follow-up, and closing processes with Salesforce automation.
Improved efficiency: Businesses can increase efficiency by automating customer service, sales, and marketing tasks using Salesforce automation.
Increased flexibility: Businesses can gain flexibility by utilizing Salesforce automation features such as workflows and reports that can be customized.
Cost savings: With Salesforce automation, businesses can save money by eliminating manual processes and automating tasks.
The Salesforce platform is the answer
With Salesforce, you have access to the most reliable CRM and data solution software on the market, and one of its key features is its emphasis on automation. Through the Salesforce Platform, organizations are now able to automate their business processes in a way that is customized to fit their individual needs.
Businesses can easily integrate Salesforce's process automation tools with their existing systems and CRM data with the Salesforce Platform. Salesforce helps users find the tools that are right for them because they do not expect everyone to be an expert right away. Using Salesforce's certified specialists, decision-makers can explore the available tools to find powerful solutions to their process automation needs.
A Salesforce Platform also provides businesses with the ability to build, deploy, and conceptualize custom automation applications when an existing tool just isn't sufficient. It's easy to design apps with drag-and-drop tools that don't require any computer science or coding knowledge. Salesforce Lightning Process Builder makes it possible for organizations to automate difficult, complex, and repetitive tasks. Besides saving time and money, it also eliminates errors before they become problems.
Salesforce Platform's user-friendly interfaces, real-time processing, productivity tools, and cloud-based architecture make it an automated business process solution that brings automation to life.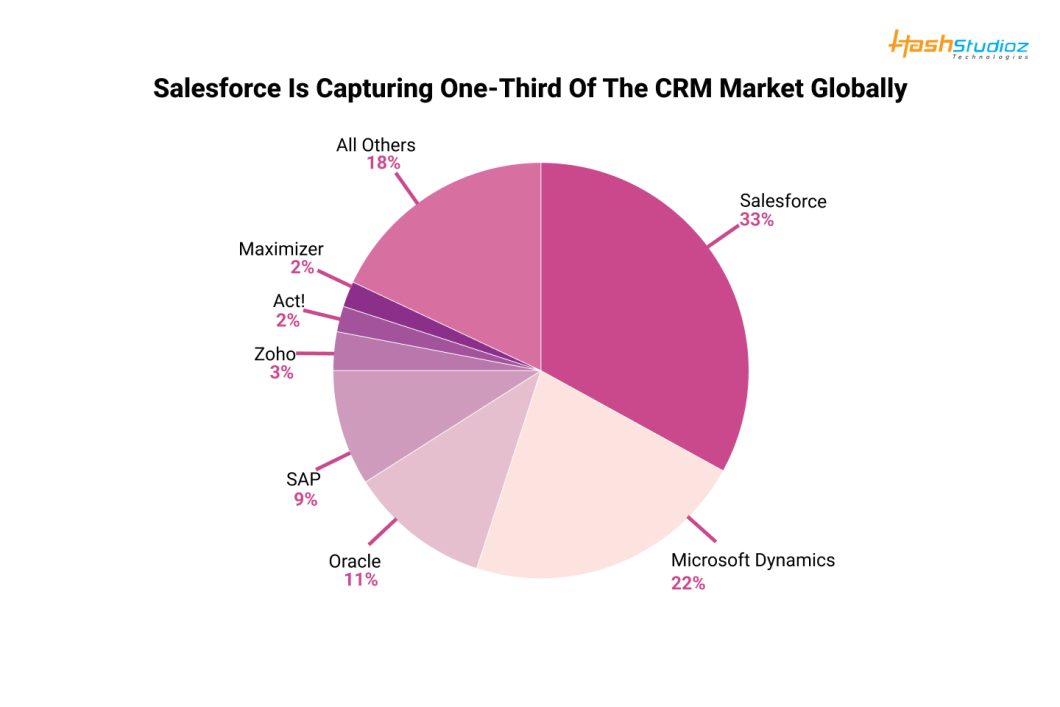 How can HashStudioz help you?
HashStudioz Technologies Inc. can help you automate your sales process and improve your Salesforce productivity. Our Salesforce development services include Salesforce automation, data integration, and custom development to streamline your sales process.
You can customize your Salesforce automation solution with the help of our Salesforce automation experts. Our team can also train and support you to maximize your Salesforce investment. Get in touch with us today to learn how we can help you.
Four types of Salesforce automation
Salesforce automation can be divided into four types:
1. Workflow rules
Workflow rules in Salesforce provide you with the capability to set an "if this, then that" scenario in which Salesforce will make a specific change if the criteria are met:
Set up a task
Add or update a field
Alerts via email
Send outbound emails
Each workflow rule is an island, and a collection of workflow rules can grow into an unmanageable tangle of dependencies.
Regardless of changes in the environment, they remain steadfast in what they're instructed to do. Your org's configuration may need to be updated every time you make changes.
Try to avoid workflow rules if possible. They're fast and easy but tend to cause technical debt in the long run.
2. Flows
Salesforce Flow Builder provides a visual interface for creating logic flows and setting conditions. Flows are much more flexible than workflow rules. They're also more complex. However, it lets you structure what is essentially a collection of rules, and you can delete the information as an action.
Use Flows instead of workflow rules whenever possible. You'll be forced to consider your org's configuration and avoid technical debt.
3. Code automation
Apex code is considered the king of automation. Coding is usually the best option if the interface can't handle something.
Avoid using Apex, also referred to as "one-off code." Technical debt develops as your org evolves, and custom code cannot keep up; as a result, it becomes a colossal maintenance burden and a risk. An update could overwrite that code if the person who wrote it leaves your organization without documenting it.
4. API
Salesforce's API allows you to automate actions with other tools. You can de-risk changes and speed up management with HashStudioz.
With HashStudioz, you don't have to hunt for configurations and metadata in the Salesforce interface. This means you can:
Configure your instance
Search for configurations
Reuse and duplicate patterns
Maintain multiple versions of your environment
Push production changes easily
A key feature of HashStudioz is that it can also perform impact analyses. Currently, Salesforce's native "where is this used" functionality only covers custom fields. With HashStudioz you can perform "where is this used" (aka impact analysis) across all metadata types, so you can see whether your automation will have unintended consequences.
How can you incorporate Salesforce automation into your business?
Your business can benefit from Salesforce automation in several ways. It is easier to keep track of your sales data and customer information in one place. It will save you both time and effort compared to manually entering the data. Salesforce automation can also help you manage your sales pipeline more effectively.
All your data in one place makes it easier to track your progress and see where your deals are in the sales cycle. Finally, Salesforce automation can help you create more efficient sales and marketing campaigns. Based on your customer data segments, you can create targeted marketing materials and sales strategies to increase conversions.
Dos and don'ts of Salesforce automation
Salesforce automation involves automating sales-related workflows and tasks within the Salesforce CRM platform. It can improve sales team efficiency and productivity while improving pipeline management.
Using Salesforce to automate sales processes can be tricky if you don't keep these points in mind.
To begin with, you should clearly define the goals and objectives you want to achieve with automation. As a result, you will be able to choose the right automation tools and features and configure them optimally.
Identifying your goals will help you automate individual tasks and workflows. To automate repetitive tasks, you can use Salesforce's workflow rules or create custom buttons and links. Testing your automation processes thoroughly before deploying them to your sales team is essential to ensure they are working correctly.
Increasing efficiency: Salesforce automation allows businesses to automate sales, marketing, and customer service.
You can increase your productivity and efficiency with Salesforce automation. There are a few things you need to keep in mind if you want to make the most of it. Listed below are some dos and don'ts when it comes to Salesforce automation:
Do:
Set clear goals for automation.
Learn how automation can improve your current processes.
Implement automation with the help of a trusted Salesforce partner.
Allow users some time to become used to the new system.
Don't:
Automate just for the sake of automation.
Attempt to automate everything at once.
Ensure a successful implementation by getting help from experts.
Before going live, test your automation.
Conclusion
This served as your comprehensive and practical guide to Salesforce automation. When used properly, Salesforce automation can help your business grow. You should consult HashStudioz Technologies Inc., the best Salesforce development company in India if you are still confused about how Salesforce automation can benefit your business.