One of the main factors improving the market is how smartphones are expanding in the developing world. From mail to banking solutions, we constantly use our mobile devices for our daily work. NFC banking app are changing the world, which is not a major surprise. NFC is a contactless technology that allows the exchange of data between NFC-enabled devices.
NFC business reached around USD 17.5 billion in 2020 and is now estimated to reach USD 39.8 billion by the year 2026. The estimated mobile market size is estimated to be around $ 3 trillion globally by 2024. NFC payments have diverse benefits such as providing secure transactions, convenience and versatility.
Technological advancements have undoubtedly made it easier for end users to carry out daily activities. Its new technology is called Wireless Sensor Network System which uses mobile phones to carry out a wide range of entertainment and business activities at all possible levels.
It's interesting because it allows end users to make payments and transactions on the mobile phone itself. They have got this facility due to the tremendous growth of NFC, i.e. Near Field Communication. The market for smartphones adopting NFC is also growing rapidly.
What is NFC?
NFC is a wireless communication technology that enables end users to exchange data between different devices located far from each other through RFID readers and beacons.
It allows them to complete the transaction without any hassle as it is little energy and low-cost communication technology. NFC focuses on optimized communication by enabling secure complex data exchange between two users in a less intrusive manner.
NFC also enables retailers to enhance the in-store experience to tackle extreme competition. Convenience and time are two factors that shape customer preferences. Customers either visit the retail store because they don't want to wait for the order to arrive at their home, or they prefer online shopping because it is quite convenient.
Furthermore, the key point is to make it incredibly easy for them to complete the entire process of purchasing the product. NFC uses electromagnetic radiation to transmit information between two devices, i.e. beacons or RFID tags and helps users to transact seamlessly.
Some markets across Asia, Japan and Europe have started using NFC to enhance the payment experience. However, people should still adopt this technology by applying it widely.
How Do NFC Payments Work?
NFC (Near Field Communication) enables two devices to communicate wirelessly when they are nearby. When both the payment device and the reader are close and active together, the encrypted information is exchanged from the NFC chip that completes the payment.
With this simple process and many advanced features, NFC banking app are now considered a secure and reliable method for all types of payments. Most digital wallet payment apps use NFC technology for enhanced security.
Another feature of NFC is that it can only connect to one mobile device at a time, so it reduces the chances of nearby users accidentally paying someone else's bills. It allows users to save multiple credit and debit cards on their smart devices without the hassle of carrying their cards. NFC payments are ruling the world as making payments online is booming.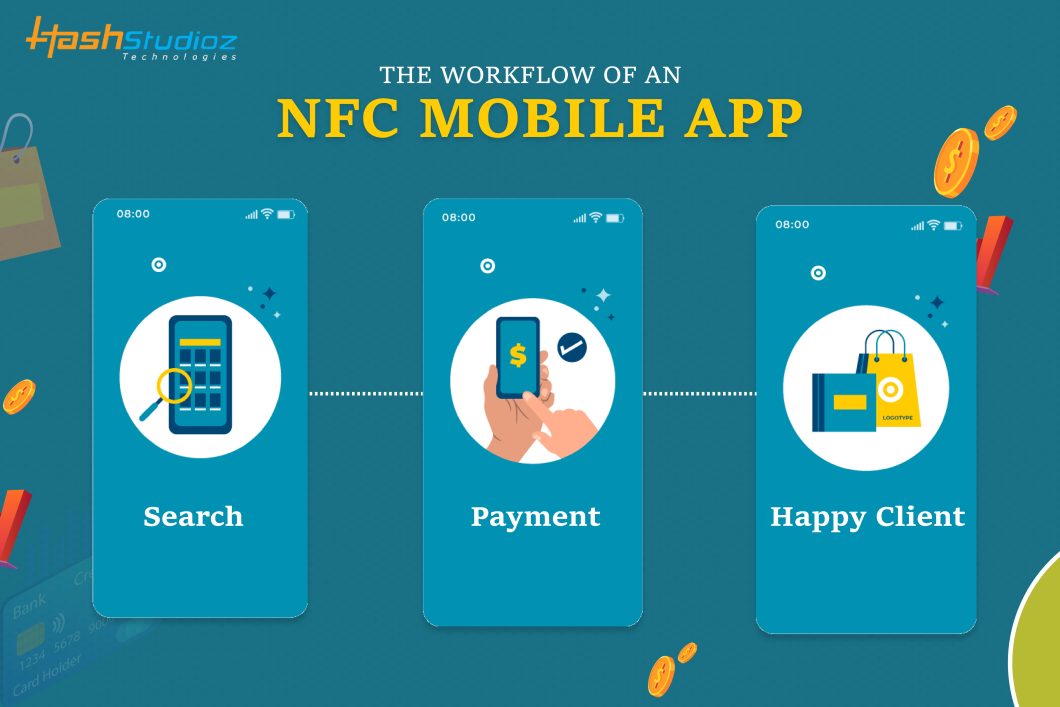 NFC in Banking Apps
Contactless Payment
NFC technology has been implemented by banks to enable contactless payments, even before we heard about the coronavirus infection. For example, in 2018, more than half of payments across the UK were contactless; in South Korea, the number increased to 96% compared to just 3% in the US. The 2020 pandemic brought a "new normal" to our lives and made the whole world aware of the importance of contactless financial transactions. The use of contactless payments in the US has increased by 150% since March 2019.
Everyone has heard about Samsung Pay, Apple Pay and Google Pay services, but not many know that Near-Field Communication is the technology to be serviced. The Cardholder enrolled in such service can make no-touch payments through his smartphone, watch or other wearables. If a bank or credit union is striving to provide the best service to its customers, it may not use third-party mobile wallets like Apple Pay, but instead, develop or reduce existing banking apps to make them NFC friendly and less optimized.
Customer Acquisition And Loyalty
A banking app cannot be used only for financial operations or checking account balances. There are many reasons why customers need to visit a bank branch and interact physically with the bank employees. NFC tag can work as 'Check-in' inside the bank branch. It allows customers to choose what they need today and enables banking clerks to act accordingly and provide professional support. A customer receives a notification on their phone with the name of the bank employee and the expected wait time.
Identity check
Such a feature can be easily introduced through NFC technology. One tap of the phone to tag in the bank or at the desk and the bank employee's computer gets all the necessary information about the customer. This can be especially important for loans as NFC-based verification leaves no room for fraud. Also, the identity check facility can be useful for large banks with multiple branches in different states or abroad. For example, a Regional Manager can travel through bank branches and the activation of an NFC tag on arrival facilitates branch audit.
Scheduling Appointments
One of the ways NFC mobile app development is transforming banking processes is through ticket generation. A tag inside the bank can help with taking out a loan or scheduling appointments to meet with a mortgage advisor. By tapping their phone in the bank, customers can access the slots available in the bank employees' schedules. This allows them to take time off and lets the banking app synchronize with the phone calendar.
Paperwork and NFC
NFC banking apps can also make filling out documents easier and provide stronger fraud protection. Government-issued ID cards and passports are RFID-chipped documents, meaning that NFC technology can be used to facilitate onboarding processes and quickly verify or fill out banking documents with 100% accuracy.
NFC Digital Wallet
Traditional financial systems are starting to accept cryptocurrencies. National banking systems from every country around the globe will start using cryptocurrencies, if not today then tomorrow. There are options for cryptocurrency holders to connect digital assets to mobile banking apps, send or receive funds, and enable contactless NFC-based payments on the casual sites of everyday life.
Most Trustworthy And Secure NFC Payment Apps Available Today

Google pay
Google Pay was launched in 2018 and with its help, you can make your payment easily and securely. Google Pay also allows you to add payment details and then you can make your payment using a bank account or by entering a user's phone number.
With this payment tool, you can check your bank balance linked to your account.
Apple pay
This app has been around since 2014, it allows users to do contactless transactions on the store. You don't need to save your credit card information or number, it will create a virtual account number.
If you need extra security, you can also choose a fixed-digit code, so that if a hacker tries to steal from a merchant payment instrument, they will not be able to cash in on any data. Thus the card data is protected.
LifeLock Wallet
Lifelock is recognized as an identity theft protection service and has introduced its digital platform known as Lifelock Wallet. It also allows the saving of card details, insurance, other card information etc. and also provides device security.
It can scan thousands of transactions per second to identify and alert users about any kind of threat or fraud. Discuss the budget and the best way to fit the necessary functionality inside it.
MasterCard PayPass
It is a P2P payment app and allows consumers to pay for purchases at merchants that have PayPass terminals.
All electronic encryption is separate for each mobile payment transaction with the help of a smartphone and a user card. All data and information are safe and secure against any loss or theft.
Visa payWave
This method is widely used because it is contactless technology and is one of the most secure NFC banking app. This app will authorize you to spend the least amount of time at the money counter and allow you to do other important tasks.
It consists of an integrated computer chip for sending and receiving payments and operates on a magnetic tape technology that is processed by the same trusted payment network.
Phone Pay
With the help of this app, users can send or receive money, make purchases, pay bills, electricity bills, recharge and much more. Apart from these, users can also book cabs, order food, book flight tickets etc.
The app works on a unified payment interface system and the user has to provide bank account details and develop a UPI ID. For this app, consumers do not need to recharge their wallets as the money will be directly debited from their respective bank accounts.
Why Opt To NFC Banking App Development?
There is no denying that NFC technology in mobile devices is fast as well as secure. But what are the business benefits it provides? Here we list some of the benefits that NFC technology provides to enterprises:
Security: Unlike static data stored in a Stripe card, the data exchanged between devices is constantly changing. Furthermore, the encrypted nature of NFC data makes it difficult for hackers to steal it as well as decipher it.
Convenience: It may be possible to link multiple bank cards with banking apps or mobile wallets and manage payments accordingly without having to carry a physical bank card.
Speed: Another advantage of NFC technology is that it is much faster than EMV. EMV chips may take some time given the nature of these cards, but NFC transactions are done within seconds.
Power Consumption: NFC is a bit slow compared to Bluetooth devices, but with a tendency to consume less power, it holds a considerable advantage. This may be unsuitable for some use cases but it holds for mobile devices as well as devices that do not have much operating power.
How to Add NFC Feature to Your Banking App
Partnering with a competent development company is very important. Check out his experience and past projects in the fintech domain. If necessary, reach out to the company's previous customers and ask for reviews.
Make sure you have a clear vision of what benefits NFC technology will bring to your company or banking institution. The size of the team that will work on your application and your expectations should be discussed in depth with the developers. These and other important steps should be discussed during the project phase.
Discuss the budget and the best way to fit the necessary functionality inside it. Typically, the solution as well as its integration and further maintenance are included in the development price. Sometimes there are options for a startup.
Make sure the company you want to work with has a wide range of in-house experts, from UI/UX designers to AI experts. During the development process, you can change the design of your app, and introduce new features such as cloud sharing or machine learning.
Conclusion
With the help of the NFC contactless payment system, retail store customers are allowed to keep their card information secure on their phones and pay with a few clicks on their phone or close to the NFC reader.
Despite NFC's wide range of applications, the real world is adopting it at a moderate rate. By providing quick, simple and completely secure financial transactions, banks implementing NFC technology are a step ahead of their competitors and sometimes even ahead of the curve.
HashStudioz is the fastest-growing app development company that has an experienced enterprise mobile app development team with the necessary qualifications to assist you with NFC payment options. We use AI in finance app development and have extensive knowledge of designing, building and developing customized NFC-based solutions and services that can help you deliver interactive customer experiences.