Businesses can leverage seamless connections with clients and prospects through mobile applications. The use of mobile apps has become synonymous with marketing strategies due to the ability to communicate interactively and the enhanced adoption of new products and services.
To fully reap the benefits, you need to be aware of current and future trends. A brief description of what to anticipate is provided below.
Is your phone cluttered with apps? Have you noticed anything? A new feature every day. Businesses are gaining more customers every day. Thousands of users with innumerable expectations. As a result, the mobile app development industry is evolving at breakneck speed.
In total, there are 6.63 million apps available on Google Play and Apple's App Store. How would you ensure that your app stands out from the competition? Unless you keep up to date with the latest mobile app development trends and know how to leverage them, you will not be able to develop robust, feature-rich mobile applications.
Mobile app development is evolving at a breakneck pace. You must become familiar with the changing trends in mobile app development to thrive and survive in this digital Darwinian era. It is also a frightening fact that most mobile apps fail.
This failure is mainly due to an inability to keep abreast of mobile app technology trends. In addition, this shortcoming results in a loss of market share to a competitor who is more technologically savvy. Using a few mobile app development tips can greatly improve your app.
To make your mobile app a success, you must stay on top of future mobile app development trends in 2023. A few of the latest trends can be found below.
Mobile app development trends in 2023
This year is certainly full of new trends in mobile app development, but we have compiled a list of the top ones based on extensive, fact-based research.
5G technology
Recent years have seen a lot of talk about 5G technology. It has, however, become a buzzword this year. We see 5G-enabled devices in the market as technology companies are implementing 5G on a large scale. Around 47.5% of all smartphones will have a 5G connection by next year, representing 660 million devices.
What does 5G's popularity mean for mobile app development? We will be able to create and use applications differently as a result of 5G. Efficiency and speed will be greatly enhanced. Things we can look forward to:
In comparison to 4G, 5G will be 100 times faster.
Video streaming applications will perform better with less latency, higher resolution, and faster performance.
With 4G technology, latency will be reduced from 50 milliseconds to 1 milliseconds.
AR and VR will have a more significant role to play in 5G. As an example, it will be easier to integrate them into an application.
There will be a faster and smoother transfer of data between devices.
Mobile app developers will be able to create new features with 5G. The performance of mobile applications is not adversely affected by this opportunity, by the way.
There will be a faster and more secure mobile payment system. Due to the faster processing of biometric data for identification, this will happen.
In general, 5G technology will make using apps faster, smoother, and more efficient.
Focus on UX/UI
It is always desirable for mobile screens to have a neat and simple design, considering their small size. In recent years, smartphone users have increasingly preferred minimalistic, clear interfaces. The design of such content makes it easier to read and perceive.
Nowadays, the user interface (UI) and user experience (UX) are more significant than ever in mobile app development. Why?
Today, people do much more with their mobile devices than just send emails and make phone calls. Among other things, these devices are used for banking, shopping, entertainment, and more. The visual appeal and usability of mobile apps must be carefully considered by mobile app developers.
A strong focus on UX/UI has led to several innovative ideas for attracting users. You can accomplish this by paying attention to aspects other businesses may overlook, such as colors!
Apps for foldable devices
In the coming years, foldable devices will likely take a larger share of the overall smartphone market share. As you plan your mobile app development strategy, keep foldable devices in mind as well. Ensure your apps run smoothly on foldable devices – a challenging trend in 2023.
Providing a larger screen can benefit users in several ways:
With a larger screen, you can enjoy a more immersive and detailed experience.
Users can perform multiple tasks simultaneously with multiple windows.
By simply increasing the screen size of video streaming and gaming apps, foldable devices can achieve maximum benefits – or by providing additional features and controls by utilizing the extra space. One of the latest trends in mobile app development will be developing apps that are screen-friendly.
Augmented reality and virtual reality development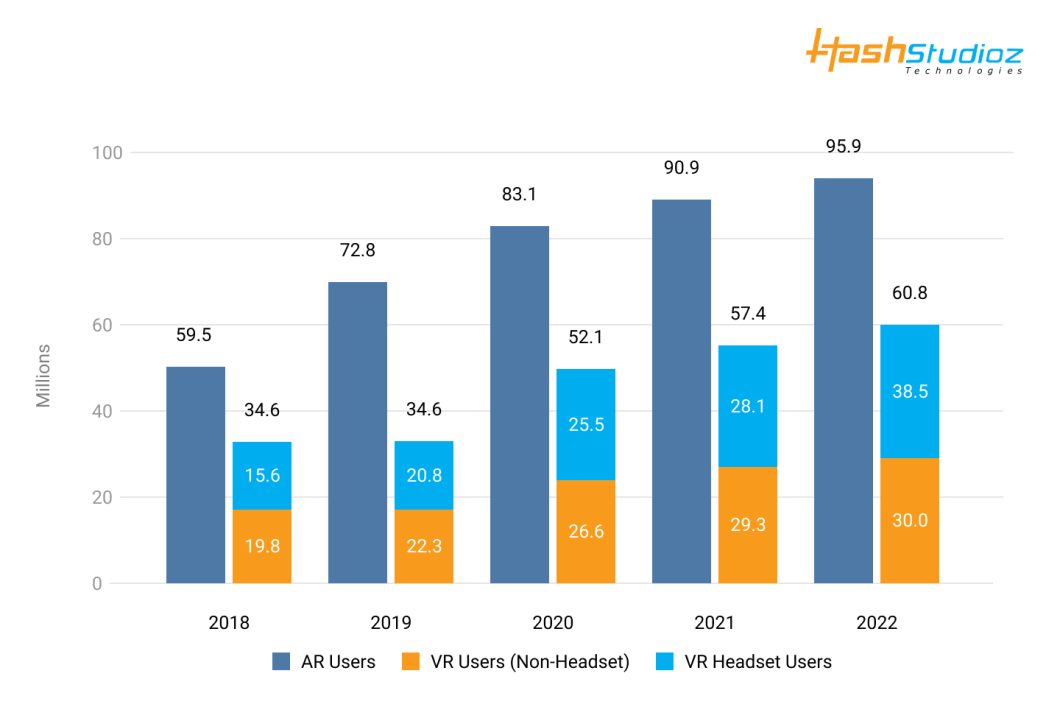 Augmented reality (AR) and virtual reality (VR) blend the online and offline worlds. Virtual reality technology has completely transformed our environment. The right VR kit can make all the difference in the virtual reality experience you receive.
You can learn about VR using special gadgets and mobile phones like Samsung Gear VR, LG 360 VR, and others.
With augmented reality, we can use our devices to assist us in our daily routines. You can use these to search for goods, get some information, or express yourself.
Ukrainian company FFFACE, for instance, creates wonderful AR projects for digital businesses. This studio created Astra Starr, the first digital blogger in Ukraine. Digital garments are also developed by the FFFACE agency in collaboration with fashion brands.
Mobile apps generally use AR and VR to encourage users to try out:
Clothing,
Furniture,
Paint colors,
Hair colors and styles,
Eyeglasses,
Makeup.
The global VR and AR market is expected to grow to $250 billion U.S. dollars by 2028, according to Statista research. The 2023 mobile app development industry trends include this as well.
Increasing Popularity of Voice Search
In recent years, voice search has gained traction thanks to digital assistants like Siri, Alexa, and Google Assistant. According to estimates, the number of digital assistants used by 2023 will reach 8 billion, and along with it, voice commerce, particularly for digital purchases, will grow substantially.
Businesses and developers must rethink the way they approach search engines as more people gain access to these technologies. You need to make sure both your app and website are discoverable via voice search queries since voice search wasn't designed exclusively for eCommerce. Consider methods such as schema markup or structured data when optimizing your app for voice search.
Wearable app integration
There is no denying that wearable devices are taking over the world. As of 2017, there were 453 million connected wearable devices, and that number is expected to rise even further by 2022.
We saw many important developments in the wearable devices industry this year. The WatchOS 8 update was announced by Apple. It brought new features, fresh watch faces, increased wallet access, and a redesigned interface for Apple Watch users.
Google has introduced a unified wearable platform, integrating its wear operating system with Samsung's Tizen software platform to boost app startup times by 30%.
Wearable technology is one of the key mobile app trends for 2023.
Business and app developers should prepare apps that provide excellent digital experiences on smartwatches and wearables to gain an edge over their competitors.
Offering seamless digital experiences to your target customers is the best way to get close to them.
Beacon technology
Using beacon technology, portable, small devices transmit a radio signal that can be received by nearby devices. Many fields use beacon technology. Almost any mobile application can benefit from beacons, from healthcare to retail.
Technology has, however, advanced greatly over the last few years.
Now let's look at how beacons work with mobile applications. If you're a retailer who makes mobile applications, let's assume you're a reseller of mobile applications. Your customers can install beacons in their shops that connect to people's phones using Bluetooth if the app is installed on the devices. By passing by a beacon, users will be alerted to sales or special offers at that shop.
Stores can also use beacons to track shoppers' behavior. The system can determine whether a user spends a significant amount of time in a particular aisle. To encourage sales in this area, the application can automatically send push notifications.
What is the main benefit of beacon technology? It is proximity marketing. Mobile applications benefit from this type of marketing because it enhances the user experience.
The beacon technology market is growing at a compound annual growth rate of 59.8%, according to Statista. Its projected value will increase to $56.6 billion by 2026. In 2016, $519.6 million was worth more than 10 times as much.
In 2023, this technology will be one of the hottest new trends in mobile app development.
A rise in AI-powered interactions
The popularity of personalization and automation is driving the use of AI in web app development. Your visitors want products, services, and search results that are relevant and valuable to them. Therefore, you can use artificial intelligence to improve interaction, drive engagement, and deliver a better customer experience. Chatbots, for instance, can help visitors with FAQs and other inquiries. Visitors can use your AI chatbots instead of calling your business for information about your store hours.
Food & grocery delivery apps
During the lockdown, people relied heavily on apps like Instacart and meal kits. Due to this, these two categories have seen some of the fastest growth in app downloads.
By 2029, the food delivery app industry is expected to reach $320 billion
Delivery Hero has the most collective users; Uber Eats is the most popular food delivery app
Currently, DoorDash holds over 50% of the market share in the US for food delivery apps
By 2023, digital grocery sales are expected to reach $59.5 billion in the US
Artificial intelligence chatbots
Chatbots have been around for more than ten years. Over the past few years, chatbots have improved significantly.
Chatbots are computer programs that simulate real conversations with users. Chatbots are capable of a variety of tasks. Websites and mobile apps that include chatbots enable users to communicate via audio or text messages.
Additionally, many businesses integrate chatbots into their social media accounts. These bots can answer customers' questions and respond to messages. Instagram and Facebook, for instance, allow the integration of chatbots into their core systems.
Zeroing in on the app and data security
You and your users can suffer serious consequences from a data breach. You may lose your reputation, credibility, and even your job as a result of compromising both parties' data. Be sure to have app and data security measures in place if you're considering entering the app development market this year.
To ensure that your app has no vulnerabilities, test its security during the development stage and after making any changes to it. To improve security, you might also want to restrict access to certain areas of your app or website. You can strengthen security by assigning roles or implementing multi-factor authentication.
Gaming
Our lifestyle has become reliant on entertainment and gaming apps. It's impossible for some people to live without them.
Netflix has around 74% active subscribers in the US and Canada, which gives us a clear idea of the popularity of mobile entertainment apps. Over 89% of US digital gamers use mobile devices – which accounts for over 159.1 million gamers on mobile devices.
What makes mobile entertainment and gaming apps so popular?
They have made it easy for people to access entertainment. Gadgets and laptops no longer have to be expensive. They can enjoy them on their mobile devices.

The ability to watch a movie or play a game is no longer confined to one place. They can instead engage in mobile entertainment on the go.

Various technological advancements have enhanced the immersion of games and entertainment apps, including augmented reality, virtual reality, and artificial intelligence.

It's easy to escape with mobile entertainment and gaming apps. People spent a lot of time playing games and using entertainment apps to distract themselves during the pandemic.
No-code or low-code platforms
We can now easily become citizen developers by using low-code and no-code (LCNC) platforms that allow us to create custom apps that meet our specific needs. By lowering the barrier to entry for app development, users with little to no programming experience can still create apps.
Enterprise-grade apps can be quickly developed with no-code platforms, for example, due to their user-friendly drag-and-drop interfaces.
In general, LCNC platforms are expected to grow in the future, and more executives are investing in them. The low-code platform market alone is projected to generate $187 billion in revenue by 2030, representing a 31.1% CAGR.
Conclusion
Apple's App Store and Google's Play Store together have 5.7 million apps, according to Statista. What would you do to make your mobile app stand out from the competition?
It isn't possible to stand out if you don't know what the latest trends are in mobile app development. Developing feature-rich, reliable apps requires an understanding of how to leverage them.
Here are the top mobile app development trends for 2023. Keep an eye on mobility, user orientation, app security, speed, and entertainment in the coming year.
Let HashStudioz, a top mobile app development company assist you with implementing your idea using best practices in mobile app development.