It's time to launch and run your own Makemytrip similar app and website. We have readymade app solutions to let you control your travel business from your fingertips. Whether you are a newbie to the travel industry or want to expand your already existing travel business, you need an app. An app is similar to MakeMyTrip will allow your existing and new customers to get services from you smoothly and efficiently.

And to help you in getting the best travel app solution, we offer:
Travel app developed on your preferred platform (iOS and Android)
50+ integrated APIs
100% Customizable solutions with advanced features and integration option.
Fast delivery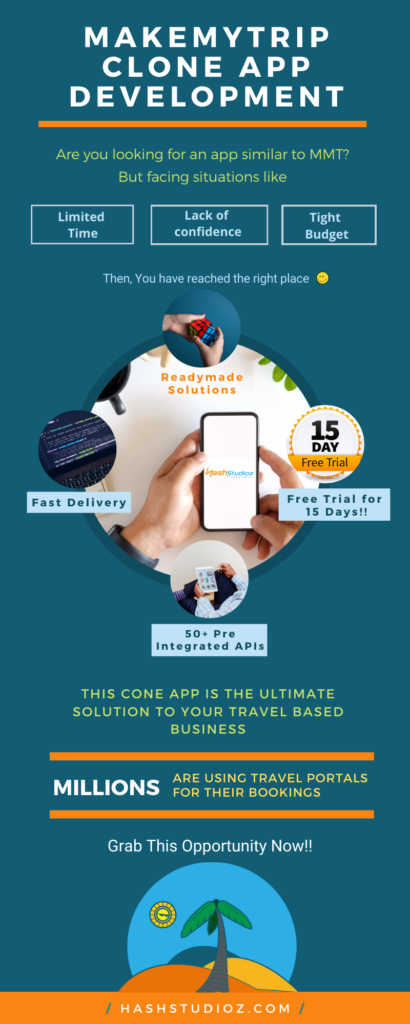 "Ready-to-use MakeMyTrip clone app with customizable advantage in any language, currency, and theme to excel your on-demand traveling venture ahead of the competition."
If you have some great offers and deals in the travel industry and want to grow in the segment through an app, then the MakeMyTrip clone will give you the control to reach your target consumers through the seamless online booking experience.

With just a single app, you can enter the online travel booking segment and provide exclusive discounts and low fare facilities in the flight, hotel, and holiday bookings and packages.

Key reasons for the popularity of Apps like MakeMyTrip:
The travel booking apps has made Domestic and international flight bookings more convenient.
People are liking the holiday deals and trip packages.
Ease of viewing ticket position, booking details, cancellation and all.
Option to save card details for faster checkout.
MakeMyTrip Clone App – Key Features

Category Selections
Controls for admin to make categories and subcategories according to the business needs.



Bookings
Controls for users to view and book a flight, bus, hotel according to their schedule.

Price Setting
Controls to set the price fixed or hourly depending on the requirements.


Push Notifications
Real-time push notification about user's travel date booking, offers, tour package and so on.

Invoice
Detail personalized invoice for the user at the end of the job that can be easily downloaded.



Full Control
Full control to track the provider as well as user activity to understand the market needs better.



Commission Management
With the commission management system, you get the control to read and track the earnings for the hotels, travel agents and websites.

Review & Ratings
User can leave feedback on the service which they received through the app. Also, they can rate the experience as well by star rating.



And More
You will receive a tried and tested solution to your business with the advanced features instilled in your app.


In between, you may also checkout our 11 Key metrics for mobile app you may need to track.
Do you want an app similar to MakeMyTrip?
Why wait when Hashstudioz have prebuilt solution for you.
Travel Factors affecting the cost of developing a  MakeMyTrip Similar app 
The platform for the app like Android, iOS or other mobile OS.
The features that you want in your app.
The approximate time to launch the app.
The number of people working on the project.
The theme you want for your online travel app.
Features to view booking details, make cancellations, and request e-tickets.
Online payment integration through wallet, credit card, debit card, or net banking.
Meanwhile, if you are interested in other domains like healthcare, cloud or more then checkout our portfolio page. You will get the idea how you can bring your idea into execution.
Frequently Asked Questions For MakeMyTrip Clone App Solutions
Q. How much would it cost to develop an app like MakeMyTrip?
A. The cost to develop an app like MakeMyTrip depends on various factors as mentioned in the above article. The final cost is estimated by knowing your requirements. Development cost also depends on the complexity of the app and how much time will be consumed on it.

At Hash Studioz, you get the pre-developed app, hence get the right price on an urgent basis. And if you desire to have your app functionality better than the original MakeMyTrip, we also facilitate on-demand advanced features for your personalized travel project.

Q. How does MakeMyTrip Work?
A. MakeMyTrip is an on-demand online travel agency (OTA), that makes it easy for travellers to book hotels, flights, trains, buses, and other transport mediums.
With MakeMyTrip like app, users can also see the estimated cost along with the date and time availability of the bookings.

Q. What is the timeline for the MakeMyTrip Like App Development?
A. If you contact Hashstudioz for your MakeMyTrip clone app development, a minimum of 3 day time is required. Yes, you heard it right just 3 days for your app like MakeMyTrip.
However, The timeframe also depends on the additional work you want for your personalized app.

Q. What are the best platforms for apps like MakeMyTrip?
A. Both Native & Hybrid Platforms are perfect when it comes to MakeMyTrip Clone development. But, if you want to go with the advanced features including emerging technologies like AI, we would suggest you go with the Native platform.
Hashstudioz help you in setting up your online MakeMyTrip clone business in just 3 days. With Category Selections, bookings, price settings, Invoice, commission management, Review-ratings & more control you get your basic requirements pre-built.
Our travel expertise knows it all and is here to guide you in your journey ahead. Feel free to contact Us and let us know your requirements.