In our rapidly changing world, it can be hard to stay on top of the latest technology. In this post, we'll look at how the IoT (Internet of Things) has started to play a role in the hospitality sector with smart hotel infrastructure. We'll also show you how to incorporate this technology into your own business and reap the benefits with the help of IoT development services.
By using IoT, hotels can offer new customer experiences and make more informed decisions about staffing levels. Your own business could take advantage of this technology too, by employing sensors that can help monitor energy usage efficiently or keep track of how successful advertising campaigns are in real-time.
IoT in the hospitality sector is the key to more efficient and streamlined hotel business, but it's not as easy as flipping a switch. To use IoT effectively, you need to first decide on the type of infrastructure that will work best for your hotel. And then, you'll need smart devices that can handle the task.
What is IoT?
IoT, or the Internet of Things, is a new way of communicating with the world around you. Using internet technology, smaller devices can be connected wirelessly and communicate data back to a central server or device. These tiny devices can do all kinds of things like alert you if your house is on fire, show you the weather forecast and even tell you when your milk has finished steeping – no beep code required!
Once you have these components in mind, it's time to put a plan into action!
In this blog post, we'll take a look at what makes better hospitality infrastructure and how many hotels are already implementing IoT practices today.
The Types of Hotel Infrastructure
With the IoT, there are two options in terms of infrastructure. You can go with either a traditional or a hybrid setup. Both have their pros and cons and it's always up to you to decide which one is best for your hotel. Let's see what each of them entails.
1) Traditional Hotel- Infrastructure includes radio-based networks like Wi-Fi for guests and staff, wired connections for managers, and an Ethernet-based wired network for everyone else (i.e. computers, security systems, etc). This is the kind of infrastructure that most hotels prefer because it gives them more control over their systems.
Pros:
It's easy and fast to install, which means that you can get the hotel up and running faster. There's less of a chance of any interference due to the radio-based nature of the network. This is what most hotels are used to using, so they will be able to manage it effectively. It is particularly advantageous for large hotels with a lot of staff members who will have an easier time transitioning from their old setup to this kind of infrastructure. This also includes big organizations like hotels and resorts, as well as franchises, which already have a team in place for managing IT systems and networks. An IoT development company can help you with this model in the most suitable ways.
Cons:
This kind of infrastructure is more expensive, particularly if you're looking to install it at a large hotel with a lot of guest rooms. It has been estimated that the cost of installing this type of infrastructure is as much as 10 times higher than that of other options.
The need for extra hardware means that there will be additional costs in terms of maintenance and repair. This is especially true if there are a lot of guests and staff members that are using this infrastructure. For example, a security system will require frequent updates to stay up-to-date with the latest safety features and policies.
2) Hybrid Hotel- Infrastructure is based on a combination of wireless and wired technology. You could go with a wireless network for guests and staff, however, there are still wired options available for computers, security systems, etc. For such a system, you can rely on the best IoT application development.
Pros:
While this type of infrastructure does cost more than a traditional setup due to the inclusion of wired connections, it's still much less costly than that of the radio-based alternative. This is especially true if you're using analog-based Ethernet cables in place of fiber optics or coaxial cables. The cost per door is also considerably lower compared to radio networks due to their supposition that only one door per room will be used for an internet connection. This is much cheaper than providing a network cable with each door, especially if the hotel has numerous guest rooms.
Cons:
The need for extra hardware means that there will be additional costs in terms of maintenance and repair. While this is true, it's worth noting that this type of infrastructure is still relatively inexpensive to install compared to other options. Less hardware means less maintenance and repair needs, which translates to lower costs for your business. If you're only going to have one or two wired connections per room, it shouldn't be too hard to get the job done at a reasonably low cost. This also means that you can easily upgrade your internet connection. If there's a sudden surge in demand due to new guests, or if there are issues with the network, it won't be hard to make the necessary changes.
Ways in Which Hotels Are Implementing IoT Practices Today Are-
Automated check-ins and checkouts.
Checking the room for items that need replacing before a guest arrives by using IoT sensors.
Sending text messages with reminders about arrival times, or about parking restrictions.
Incentivizing guests to join the loyalty program through gamification, WiFi access points, or other enticements.
Are you looking forward to implementing these IoT practices right away? If so, IoT development services are all you need.
How Many Hotels Are Already Implementing IoT Practices Today? a Lot!
A significant number of hotels around the world are already implementing IoT practices – roughly 35%, according to our data – with another group who have a plan in place but hasn't implemented anything yet (nearly 45%).
How Can IoT Benefit the Hospitality Industry?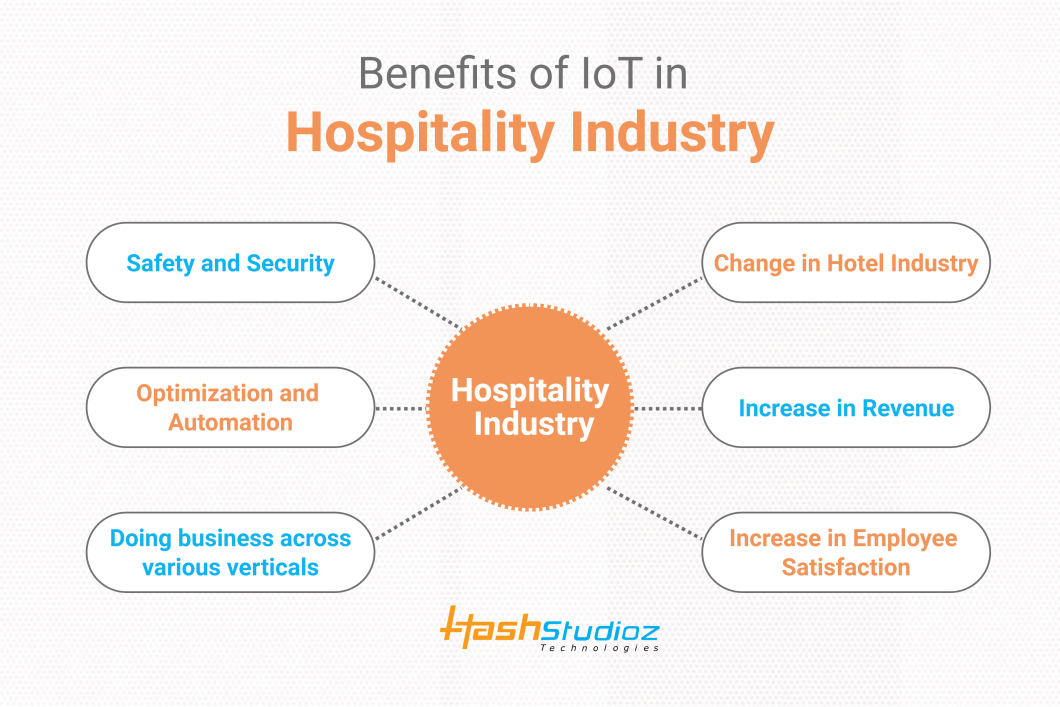 The Internet of things (IoT) can benefit the hospitality industry in several ways,
Change in Hotel Industry:
As mentioned earlier, many hotels have already implemented several IoT practices. It also has been seen that corporates and hospitality companies across different industries are increasingly investing in IoT technologies. It is predicted that it will change the way we live, work, and communicate shortly. There are certain implications of this technology which are as follows:
"Consumer expectations will change"– As the consumer market shifts towards digitization, the hotel industry is also witnessing a huge demand for IoT-driven services. "Initial investment is meager"– The market for IoT-driven services, including hardware and software, is also expected to be huge both in terms of revenue as well as investments. "The technology does not require capital-intensive investments.
"Services can be easily integrated into existing business processes"– Given the existing infrastructure, hotels can integrate the technology easily within their business processes and benefit from seamless service delivery. Want to bring the most out of your hospitality industry? IoT app development services are all you need.
Increase in Revenue:
As per our data, most hotel chains across different industries have already implemented IoT practices which have increased their revenue by quite a lot. IoT is also expected to increase revenue in the hospitality industry across different segments.
Increase in Employee Satisfaction:
Many hotels have already implemented various IoT practices which have increased employee satisfaction. Employees are increasingly using mobile-based applications as opposed to traditional kiosks, thus leading to better customer experience and motivation for employees working within your company. To make the most out of your hospitality industry, you can consider relying on IoT development services from HashStudioz and work on enhancing your employee satisfaction.
Safety and Security:
As again mentioned earlier, IoT can help hoteliers to improve security and safety at the same time. It has been seen that there are several benefits of IoT that can help transform the hospitality industry into a much safer place for travellers across various countries. 
Optimization and Automation:
Another advantage of implementing IoT is improved optimization and automation. As a result, all processes within the hotels can be streamlined at an efficient level. It will not just result in improved customer experience, but also enable hotels to manage operations effectively. Do you wish to work on the aspect of optimization and automation? An IoT application development company can be your one-stop solution.
Doing business across various verticals:
IoT has already started disrupting various sectors, thus changing the way we do business across several industries. It is expected that in the coming years, IoT will change our lives tremendously. And one of the beneficiary sectors would be the hospitality industry which will benefit both customers and providers alike by extending solutions based on real-time data collection, analysis, and actionable insights, and an IoT development company can help you here!
Do you wonder why one should choose IoT in your hotel?
Well, there are many reasons to opt for an IoT solution. They include:
Better utilization and utilization of resources that are needed to run the hotel's infrastructure, with a relentless focus on efficiency, and IoT development services can help you in the most appropriate ways with it. A better visitor experience can be offered by the introduction of services like personal assistant features such as robots, smart digital concierges, mobile apps for guests, and gateways into social media and other external services. With the ability to interact with guests through more personalized digital channels, which can be easily managed from central management systems, experts believe that the introduction of such a solution could help in better catering to customers and high-end service also.
What Is the Competitive Advantage of IoT in the Hospitality Sector?
The competitive advantage of implementing IoT in the hospitality sector lies in its ability to take advantage of mobile internet and IoT devices to provide an enhanced user experience, for help with it, you can rely on IoT application development from HashStudioz.
The potential benefits are:
Better analytics and proactive planning for both existing and future infrastructure needs; reduced energy wastage; better deep cleaning; system monitoring and management; and predictive maintenance. Better communication between staff members, visitors, and guests at guest check-in or check-out time while they are interacting with other devices like tablets, digital assistants, or digital concierge systems.
The key components of an IoT infrastructure in the hotel sector-
IoT devices: These are the devices that are installed and connected to a hotel property with the intent to deliver services and enhance the guest experience.
The devices include IoT gateways: They provide access to the Internet for all building equipment, which can be servers, printers, security cameras, sensors, etc. IoT gateways come in a variety of designs and types depending on various factors such as cost and availability of resources for connectivity. A typical gateway can be powered by an AC adaptor or mains power supply. It is connected to a router, which provides connectivity to data sources.
The network infrastructure: The network is an important component of the IoT system of a hotel and it plays a vital role in enabling connectivity for IoT devices. It also provides routing between various nodes on the system, establishes connections or relationships between IoT devices, and performs functions like security, control, and management.
A typical hotel network consists of Routers: These are used to connect different networks and make them available to connected devices within the structure.
Conclusion
The smart hotel industry is booming and can be seen worldwide. The latest trend in hotel infrastructure is using IoT to bring the features of a normal home into a hotel room. However, not all hotels have embraced the technology, which leads to more problems for guests, such as Wi-Fi outages or water tanks that empty without warning. IoT in the hospitality sector combined with smart hotel infrastructure can help the hospitality industry improve standards while reducing costs and reducing human errors.
If you are surprised by how IoT in the hospitality sector can benefit you, then IoT development services from HashStudioz can help you in the best possible way. We build scaleable IoT platforms and make connected devices smarter.
We are the topmost IoT development company in the USA, India, Noida, Dehradun, and Chandigarh. We offer world-class IoT development services in hardware, firmware, mobility, and the cloud using innovative technology. We are here to guide and provide industry-specific IoT solutions so that you can boost your operational efficiency while reassuring data security.