Fleet management isn't limited to the tracking & reporting of fleets going on the road, it's a lot more. That's why Fleet managers face a hard time efficiently running their operations and more often look for the best fleet management software to ease their burden and speed up the processes.
No doubt, a fleet solution helps in accessing clear and actionable data across your entire fleet. The insights about Vehicle GPS tracking, hours of service, vehicle maintenance, safety, and more helps in reducing the managers' burden while reducing the operational cost and streamlining the workflows.
What is the Best Fleet Management Software
A fleet solution that easily streamlines the fleet maintenance processes efficiently while handling various fleet operations with speed and transparency is considered as the best Fleet Management Software.
A system with inbuilt features to ensure hassle-free operations with real-time updates are vital for growing fleet business and an optimal solution must cover them.
Hence, whether you want a solution for your transportation service, or looking for a way to better manage your farm or your factory, the best fleet software fulfills better, fast & secure management.
Additionally, it add features to:
Let you have a more complete view of how your fleet is performing.
let you drill down into your data, providing actionable insights to help you save time and money.
Fleet management system for two key assets of your Business
While Fleet management completely eliminate the risks associated with staff cost, operations, and others. There are two key assets of feet business that need to be addresses effectively. Stay tuned to know about them..
Vehicle Management–
Vehicle management is one of the crucial challenges for businesses dealing in a huge number of vehicles, and Hashstudioz provides solutions containing modules that help clients to store vehicle information, specification, Fluid details, Engine Transmission, and Wheel details in the form of a vehicle profile.
The archived vehicles' information, like Vehicle documents, important records, can be easily accessed through our vehicle management software.
You can also check the last registered location of a particular vehicle based on fuel recharge and other services.
Employee Management
The fleet drivers are also the key asset that your business needs to take care of. Hence, to track their performance and productive output in a transparent way, we ensure employee management in our fleet management solutions.
The GDS tracking device inbuilt in the device keeps a pulse on every movement of your crew on the road with an important delivery. You can check anytime, anywhere whether the delivery schedules are being met or the driver is going in the right direction.
Apart from that, it allows companies to remove or minimize the risks associated with their employees. It offers valuable insights on driving behavior and helps in cutting down overall costs.
How Hashstudioz helps you get the Best Fleet Software
Our fleet software solutions are here to best suit your requirements with inbuilt features ensuring that you make smart and better decisions in a cost-effective & flexible way.
Our fleet product uses AI, sensors, machine learning, and predictive analytics to provide you with a secure fast, and measurable mechanism that makes your business process smoother and scalable.
There is no limit on the number of users, our flexible fleet solution will let you add multitudinous users to the system with controlled permissions.
One of the best parts about the fleet software developed by us is the portability and remote access for the users. As an admin, you can access the fleet management software all the time and track the current status.
Benefits of the Best Fleet Management System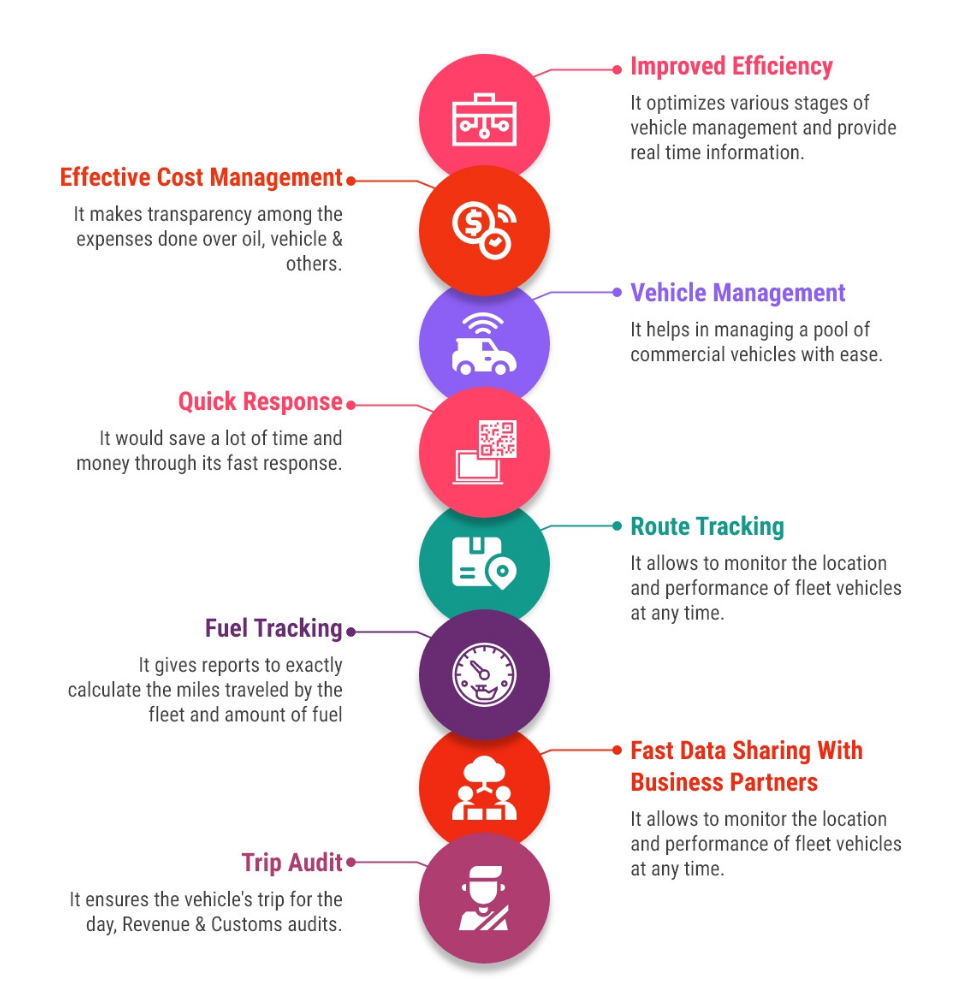 Now If you are unsure about how the process unfolds, Here is the working procedure with one of our clients
Client's Requirement for the Fleet Management Software
Highly Scalable and high-performance system for an Oil and Gas Company.
Admins and users to manage Routes, Trips, and Reports.
Mobile app to work in offline mode too.
Open standard protocols.
GPS based Route Tracking with Geofencing and alerts
Device App Locks.
The solution is to be hosted on Azure.
Hashstudioz Fleet Solution discussion with the client
During the detailed discussion, it was identified that a system needs to be designed consisting of a responsive website for Admin and Users along with a mobile app for drivers. All trips should be started based on GPS location. Drivers to pass multi-level checks to ensure authenticity and capture various gas meter readings.  The system should run nightly jobs to create reports for various stakeholders. Android-based mobile application to work offline mode with several days of data to sync. Trip creation and assignment need to be managed from the central office.
Challenges Developers resolved during the Fleet Software Development
Major challenges resolved during the development of the project were
Optimization of GPS data and route management.
Designing a general schema to manage a variety of data.
Mobile app to work in offline mode.
High Performance and load management.
Hashstudioz Fleet Solution Delivered to Client
Hashstudioz Technologies designed the system using cutting-edge Technology stacks like NodeJs, HAPI framework, VueJS, Visual Studio Editor, React Native for Mobile apps, MongoDB, and Azure Cloud Platform. The system was designed to support various roles of stakeholders like Administrator, Regional Manager, Trip Manager, and Driver. 
The system is highly scalable with high performance and utmost security. The client is now able to manage the entire fleet of trucks and drivers with the utmost security and accuracy in different parts of the country. Users can generate daily reports and schedule the various types of reports to be shared with the required stakeholders. 
The mobile application is designed using React Native and Redux. The app is capable of capturing all the required data in offline mode from the user and syncs the same with the server as soon as the network is available. The system is also designed to connect only to registered mobiles having the application.
Hashstudioz intuitive dashboard and family of integrated products are helping fleet managers keep their fleets compliant and providing them with greater visibility into their day-to-day operations.
If you are looking for a fleet management solution for factory, farm, transportation, or other business, Do let us know and Request a Quote Now!