Global economies rely heavily on the transportation and logistics sectors. It facilitates the movement of people, goods, and products between locations. With the global consumer class expected to grow by 35% by 2030, and up to 95% of manufactured goods transported in containers, the transportation sector will be more in demand. Industry leaders are focusing on how visibility, agility, and sustainability can help them overcome their biggest challenges.
Transport and logistics companies can mitigate these challenges through the Internet of Things (IoT). Incorporating sensors and onboard diagnostics into conventional trucks allows managers to track their vehicles, identify inefficient activity, and respond in real-time to changing environments.
What is the role of IoT in the transportation and logistics sector? How can IoT be used optimally in this industry? We'll figure it out together.
Use of IoT in Transportation
Using cutting-edge technology, the transportation industry is set to revolutionize its operations. It's vital that the transportation industry jumps on the IoT bandwagon to make life easier for themselves and consumers.
Here's how the IoT revolutionized transportation.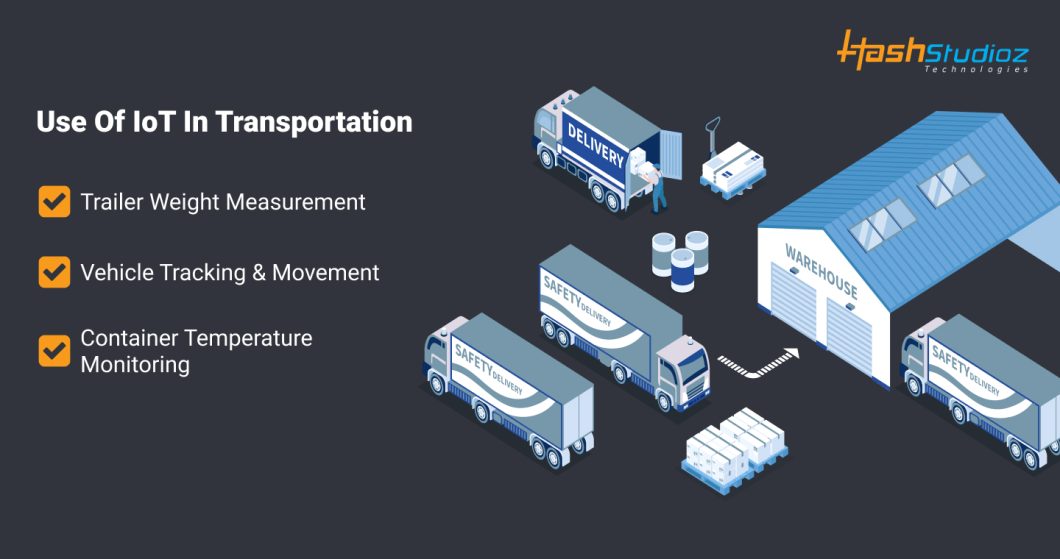 IoT has significant impacts on transportation services in the following areas.
Truck/trailer Weight Measurement
Most transportation companies struggle to accurately weigh their trucks full of goods, yet it is an essential process. An IoT-enabled weighing system embedded with smart sensors enables real-time weight measurement and can push the data to users through mobile applications in seconds. Besides improving payload, reducing fines, eliminating guesswork, and improving ROI, the system also improves payload.

Vehicle Tracking & Movement
To boost productivity and ROI, we must manage routes, drivers' activities, movement of vehicles, and fuel consumption. Companies are looking for smart options to reengineer their existing processes with traditional systems failing to meet expectations. They set the tone for their business with IoT.
An IoT-based vehicle tracking and management system makes it incredibly easy to track routes, manage drivers and vehicles, control fuel consumption, etc. By providing real-time data, IoT devices streamline operations and alert users to make smart business decisions.
Container Temperature Monitoring
To ensure the safety of the driver, vehicle, and goods, it is essential to keep the cargo at an ambient temperature. It is easy to detect deviations in cargo temperature with IoT-enabled temperature and humidity monitoring systems.
Mobile apps and web applications deliver real-time, 100% accurate data to users. It improves transparency and ensures 100% safety.
How does IoT Affect Logistics?
Many logistics companies have trouble managing multiple activities at once, which impacts their processes and customer service. Through streamlined processes, logistics experts are embracing advanced technologies like IoT to mitigate these challenges.
Logistics companies are affected in several ways by IoT.
Theft Detection and Improved Security
Large warehouses pose a huge threat to companies due to missing products and intruders. With IoT-enabled systems in the warehouse, accurate real-time data on who enters and leaves the warehouse will be available at any time. Aside from automating warehouse operations, IoT applications also allow managers to lock warehouse doors remotely.
Employee Safety
A machine is always unreliable, and it could easily harm a human interacting with it. Consequently, companies have implemented IoT devices on machines to predict their behavior upfront and alert staff about future malfunctions or mishaps. It ensures employee safety and, to a certain extent, reduces maintenance costs and machine failures.
Complete Product Tracking
For any logistics company, tracking products from the warehouse to the customer is a mammoth challenge. Logistics managers can track any product, its every movement until it is delivered using IoT tracking systems. Three purposes are served by this: to establish transparency, to reduce the workload on staff, and to increase customer satisfaction.
Analytics for Business Managers
Logistics business managers manage multiple activities simultaneously. Their job involves managing inventory, maintaining storage temperature, monitoring delivery conditions, and monitoring staff performance. IoT systems offering advanced analytics can significantly reduce the problems of doing this in real-time. By using Custom IoT Development Services, a business manager can manage inventory, deliver goods, and manage staff efficiency activities in real-time, simplifying operations.
Improved Delivery
Most logistics staff face a daunting task when it comes to tracking and managing real-time deliveries. By combining IoT with RFID and GPS sensors, real-time tracking of deliveries can be made seamless. There is no hassle involved in tracking the product until it is delivered.
IoT in Transportation and Logistics Business: How to Get Started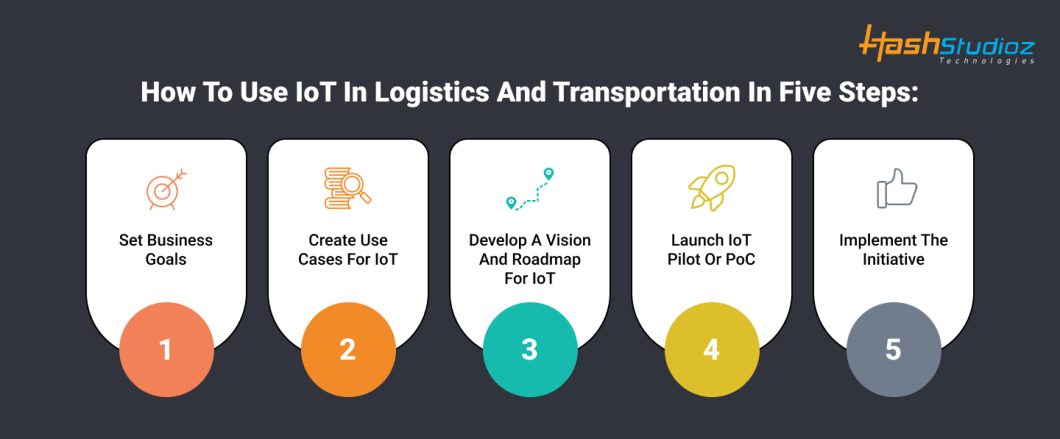 How to use IoT in logistics and transportation in five steps:
Step 1: Set Business Goals
What is your business's goal in integrating IoT? Analyze business goals, i.e. how technology changes the business environment.
Step 2: Create Use Cases for IoT
How can IoT technology be integrated into the system? Would you like to create a smart warehouse or automate your supply chain using IoT? How can IoT help your business?
Step 3: Develop a Vision and Roadmap for IoT
How will you achieve your goal? What will be the cost of this project, how long will it take to accomplish the goal, etc.? Define the roadmap.
Step 4: Launch IoT Pilot or PoC
Start small and then scale your project. Proceed to bigger goals once one thing works out as you expected.
Step 5: Implement the Initiative
Implement the initiative with the best technical guide. With an experienced technology partner by your side, you will be guided through the highs and lows of the project.
IoT Trends in Logistics and Transport
Over the past few years, shipping, logistics, and transportation IoT ecosystems have grown in size and sophistication as more assets and vehicles are connected to the cloud. We are just beginning to realize the potential of all this data.
Automated, self-driving vehicles will be driven by secure data shared across the connected transport ecosystem as mobile network technologies advance. Fleet owners can achieve higher standards of sustainability and corporate responsibility through IoT technologies beyond operational efficiency.
A Global Approach to Consolidation
In the long run, shipping and transport will be dominated by a few companies operating on multiple continents. Fleet managers will need better oversight to coordinate drivers, dispatchers, and call centers around the world.
Assigning routes and loads is much easier with real-time vehicle location and condition information. IoT technology also reduces theft and piracy risks, damages to containers, and cold chain disruptions.
Telematics for Ecology & Economy
Using sensors on a vehicle, telematics systems collect information on vehicle performance and driver behavior. By aggregating and analyzing that data, a connected fleet can gain a lot of efficiencies.
Additionally, telematics combined with predictive analytics helps schedule maintenance more efficiently, which improves fleet uptime. All of this contributes to improved fuel efficiency, reduced emissions, and less wear and tear on vehicles.
Easy Regulatory Compliance and Reporting
European truck drivers are legally required to keep accurate records of their activities, retain records, and provide them on demand to transport authorities. Regulatory compliance and accurate record keeping for the entire fleet are assured by digital tachographs that record speed, distance, and driver activity.
Insurance and Tracking of Stolen Vehicles
Insurance providers can offer fleet owners policies with rates based on usage, driver behavior, and other factors gathered from connected vehicles. The three types of motor insurance are known as user-based insurance (UBI), pay-as-you-drive, and pay-per-mile.
Insurance providers in many other countries are preparing to offer UBI, which is already available in the UK, US, and Italy. Stolen Vehicle Tracking (SVT), or Stolen Vehicle Recovery (SVR), is also becoming increasingly popular. When a theft is reported, the SVT system interacts with the police to locate and recover the vehicle.
Tracking Improves Customer Satisfaction
Business is all about getting the right product to the right customer at the right time and at the right price. With IoT, you can scale globally while focusing on the details. Using sensors to track assets in transit is becoming economically feasible instead of scanning barcodes. Detailed updates let customers know when their orders will arrive.
A Partner for the Future
Any product you manufacture can benefit from IoT solutions, from consumer goods to industrial machinery. You can develop scalable, stable, and secure IoT solutions that meet your coverage, quality, and price requirements with our help.
As a leading IoT Solutions Provider of sensor technology, software, device control, and reliable connectivity, HashStudioz IoT can meet all your IoT needs. Besides technological expertise, we offer our partners insight into emerging trends and industry experience to help you tailor an IoT solution that grows and develops over time.
Conclusion
The transportation and logistics industry is increasingly dependent on IoT-powered solutions/systems because of the many benefits they offer. In the near future, IoT-enabled companies will fundamentally transform the way they track and operate merchandise. They will reduce costs and increase productivity as a result. Robots will automate and execute most of these operations, improving customer service greatly.
HashStudioz Technologies Inc. is an IoT development company that enables businesses to make the most of modern technologies in the best way possible.